ENJOY A RESTFUL NIGHTS SLEEP WHILE YOUR LITTLE ONE SLEEPS IN TOTAL BLISS
TIRED of not getting a good night's sleep, is waking up constantly taking its toll? Wish your little one could sleep anywhere when out and about?
Well, you need The Nursery Portable Baby Bed. Take it with you ANYWHERE, so you can guarantee that your child will be 100% SAFE and get a PERFECT sleep no matter where you are!
The bed is ADJUSTABLE to fit all-size babies!
Use at home in a cot/crib/bassinet or take it on the go!
Made with 100% Breathable Materials
That's because the shape of the portable baby bed imitates the infant's embryo period and Mimics the shape of the female uterus. It has an ANTI-ROLLING shaping pillow to stop them from spilling over into an awkward position.

MAKE YOUR BABY FEEL COMFORTABLE WHILE SLEEPING AND PREVENT FLAT HEAD SYNDROME
Highlights
Provides protection to your little one's head from any fall or shocks
Adjustable straps offer a precise fit and keep the pillow intact
Detailed stitching keeps the filling from coming out
Designed according to the baby's physique, comfort without being tight
Decked with profuse material that serves prolonged utilization
About this item
100% Brand New and High Quality。

The material is baby blanket soft and the supportive structure is optimal for keeping your neck in better alignment while relaxing or even snoozing.

Cottony-cute fabric. Recommended age - 0-12 months.

Specially designed seat wrap prevents sliding and helps hold wigglers in place.

The pillows are very smooth and protect your baby's skin from irritation.
WHY YOUR BABY NEEDS THIS
✓ Prevents Flat Head Syndrome - The ergonomic design provides a soft yet supportive cushion to help combat this common problem.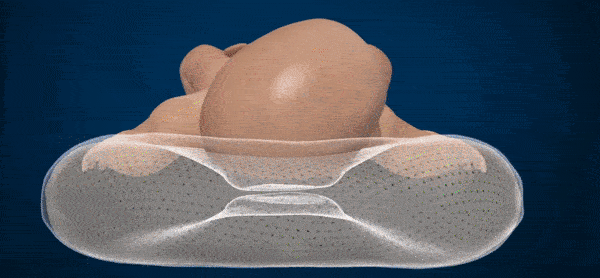 ✓ Enhances Their Comfort - Designed to imitate the shape of a mother's womb, this bed cradles your baby more than standard beds & cots.
✓ It's Doctor Recommended - Working alongside some of the best pediatric osteopaths, we've designed a bed that's clinically proven to help your baby relax.
✓ Enhances Your Baby's Growth - Encourage independence from their mother's arms, and reducing high-stress levels with a safe cradle design, this pillow will make your baby's first few months more enjoyable.